Three Cranbrook Academy of Art graduates were awarded top prizes in the juried award categories at ArtPrize in Grand Rapids on Oct. 5. The open art competition had more than 1,500 entries from 56 countries and 45 states, and our graduates won two of the six total juried awards – including the grand prize.
Design 99, made up of Cranbrook graduate Gina Reichert (Architecture '03) and her husband Mitch Cope, won the grand prize award of $100,000 for their work "Displacement (13208 Klinger St)." Their work was installed at SiTE: LAB, home to 18 unique projects in the abandoned Grand Rapids Public Museum and winner of the ArtPrize 2012 Outstanding Venue Award. Their installation, "Displacement" was composed of found objects from an abandoned Detroit home, referencing the team's focus in investigating new models of contemporary art and architectural practice. This piece is an extension to Reichert and Cope's innovative work and commitment towards revitalizing neighborhoods in Detroit. More information on Design 99 and their ongoing projects here.
Jerry Saltz, senior art critic at New York Magazine juried the award and tweeted during the event that SiTE: Lab, "is the BEST SPACE for artist-curated exhibitions I have seen in the United States for some time." Watch him announce his winning selection here: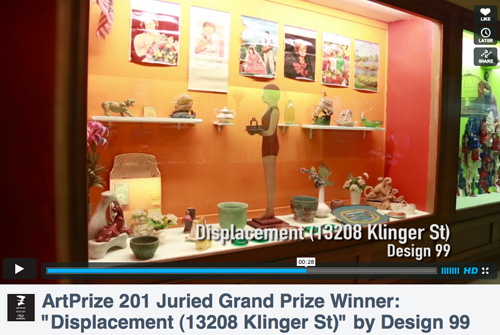 "It's so exciting to see our graduates winning at ArtPrize. SiTE:LAB is a smart, progressive, thoroughly professional venue, exactly the kind of environment where Cranbrook grads can shine," said Reed Kroloff, Director, Cranbrook Academy of Art and Art Museum. "Congratulations to them all!"
Also exhibiting at SiTE: LAB was the collective, Complex Movements, who received the Juried Time-Based/Performance Award of $20,000 for their work "Three Phases". The six person group includes two Cranbrook graduates, Wesley Taylor (2D '11) and Tiffany Massey (Metals '11), along with Invincible, Waajeed, AJ Manoulian and Carlos (L05) Garcia. Their work at this year's ArtPrize was an interactive hip-hop performance that used video projection, sculptural multimedia installation, and creative technologies to explore the relationship between art, science and social justice movements. Jeweler Tiff Massey said, "I couldn't have participated in a better venue with some of today's most talented artists. It's not every day artists have free range to completely transform a space to realize their concepts. Being nominated for an award is always an honor, but to win is just simply amazing. We're all smiles over here." To find out more about Complex Movements, click here.
Cathy Edwards, director of performance programs for the International Festival of Arts & Ideas was their juror. Watch her discuss why she selected this award here: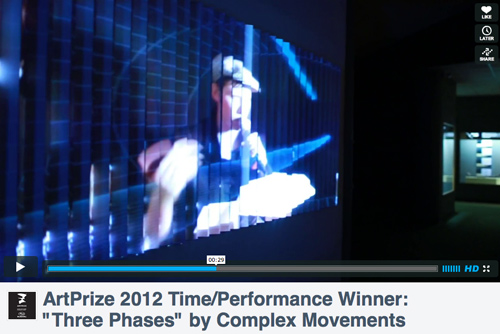 Congratulations to the winners. We're proud to call you Cranbrook graduates.